EV Charging 152 East Napa Street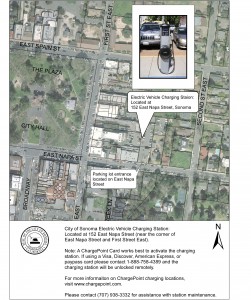 City of Sonoma Electric Vehicle Charging Station:
Located at 152 East Napa Street (near the corner of
East Napa Street and First Street East).
Note: A ChargePoint Card works best to activate the charging
station. If using a Visa, Discover, American Express, or
paypass card please contact 1-888-758-4389 and the
charging station will be unlocked remotely.
For more informaiton on ChargePoint charging locations,
visit www.chargepoint.com.
Please contact (707) 938-3332 for assistance with station maintenance