Important Golden Gate Bridge Toll Info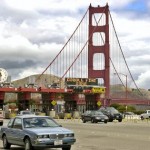 If you're planning to travel between San Francisco and  Sonoma, you will probably be crossing the Golden Gate Bridge. Golden Gate Bridge tolls are collected in the southbound direction via an automated system that "reads" license plate numbers (or senses Fastrak transponders  in the vehicle). There are no human toll takers or mechanized toll boxes. Cars simply slow down and pass through the Toll Plaza without stopping. It is possible to set-up a Golden Gate Bridge payment account, so that tolls are automatically paid from one of your financial accounts; however, this won't be practical for most out-of-area visitors.
If you're renting a car, we strongly suggest you ask your Rental Car company agent about your Bay Area bridge toll options BEFORE you leave the rental facility. Many companies offer a Toll Program which will cover all of your Bay Area Bridge Tolls for a flat daily rate, but rental car company policies differ, so be sure to check. One way or another, you will be held accountable for tolls and penalties, so make sure you understand your options BEFORE you cross the Golden Gate Bridge,  in the Southbound direction.
If you'll be traveling in a personal vehicle, and don't already have a GGB License Plate Account or Fastrak Transponder, then you have several options. Frankly, the options are bit difficult to explain, so here're a few links to the official site:
o Golden Gate Bridge Toll Frequently Asked Questions