Pangloss Cellars
SNIPPET: Large, rustic yet elegant tasting room and lounge located directly on the Sonoma Plaza.
HIGHLIGHTS: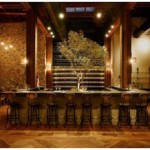 Pangloss is the sister winery of high-end Repris Winery. Same winemaker; solid quality Bordeaux varietals and Pinot Noir. Plenty of space for comfortably accommodating multiple small groups in intimate settings. Or better yet, ask about the Speakeasy where you knock on the door in the side alley for entrance to a hidden world behind closed doors.
BEST FOR: Fantastic option for last minute drop-in wine tasting. Have a single glass of wine at the bar or splurge on the wine and food flights beautifully served in what feels like someone's classy living room. Or reserve in advance for a private back room tasting.
PRICE RANGE: Varied options for tastings, all reasonably priced.
ADDRESS: 35 E Napa St, Sonoma, CA 95476
PHONE: (707) 933-8565
MAP: