El Dorado Kitchen
SNIPPET: Upscale wine country restaurant right on the Sonoma Plaza. But really, it's a restaurant, wine bar and hotel all rolled into one renovated historic building.
HIGHLIGHTS: Bartenders love to cater to your cocktail whims. Outdoor patio is a lovely spot for drinks and appetizers. Food a tad overrated and pricey but good value for lunch.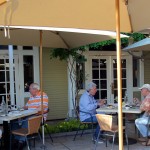 BEST FOR: Great lunch spot or first stop of the evening for cocktails and appetizers on the outdoor patio.
PRICE RANGE: Expensive
ADDRESS: 405 First St West, Sonoma CA 95476
PHONE: 800-289-3031
MAP: