Maya Restaurant
SNIPPET: Excellent, authentic dishes from the Yucatan region of Mexico served in a warm, beautiful and casual setting right on the Sonoma plaza. Local hangout, particularly at the Tequila bar.
HIGHLIGHTS: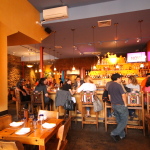 Best spot in town for an evening of margaritas and casual yet classy dining. Wide range of food from sopes and cevechies to slow roasted carnitas, tortilla soup or mixed grill.
BEST FOR: You simply cannot lose here if you like Mexican food.  Extensive Tequila menu. Happy hour Mon-Fri 5-6 p.m.
PRICE RANGE: Moderate
ADDRESS: 101 E. Napa Street Sonoma, Ca 95476
PHONE: 707-935-3500
MAP: